Professor Cyan
Edit
Originated in
"Even Weirder Science"
, September 9, 2012.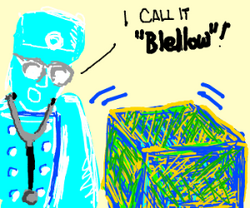 Still relatively obscure, the cyantist, Prof. Cyan (also sometimes called "Dr. Cyan") is still struggling to become a household word. The fate of science everywhere in an era of general distrust and mysticism , perhaps?
Also, readily sidetracked to Dr. Manhattan references . In fact, it may be the number of other characters (Mr. T, Walter White aka "Heisenberg") that he can be confused with that has led to his relative obscurity?