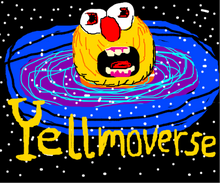 A fan genre developed in Drawception inspired by the character Yellmo, which builds upon Yellmo's story and universe, hence the name "Yellmoverse".
Yellmo's creation has inspired other Drawception users to spawn new characters and places to comprise the Yellmoverse, and much like Yellmo, they are often counterparts of Sesame Street.
 List of Characters in the Yellmoverse
Edit
Though there's no set criteria for what is considered to be "canon" in the Yellmoverse, these are user-created characters that have been declared part of the Yellmoverse.